Homayoon Farzadegan: Top Internet-Course Faculty 2009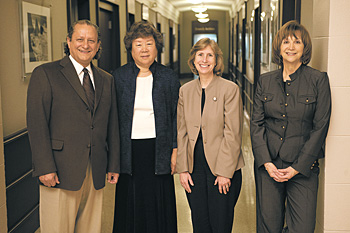 2009 Johns Hopkins Alumni Association Excellence in Teaching Award winners in the School of Public Health: Homayoon Farzadegan, Amy Tsui, Marie Diener-West, and Ann-Michele Gundlach (Photography: Homewood Imaging and Photographic Services)
Each year, the Johns Hopkins Alumni Association salutes those who excel in the art of instruction with its Excellence in Teaching Awards. Homayoon Farzadegan, who teaches three Internet-based courses, is one of the 2009 award recipients. The following article from the May 18, 2009 The JHU Gazette ("Honor Roles for Top Faculty") highlights Dr. Farzadegan's online course pursuits. Thanks to The Gazette for reprint permission.
 
Homayoon Farzadegan, Epidemiology, Internet class
- Natalie Wood-Wright

Connecting with students isn't easy — especially online — but for four-time Golden Apple recipient Homayoon Farzadegan, his ability to connect using technology is the key to his students' success.

"I try to go beyond the standard prerecorded lectures and encourage the sense of an online learning community," Farzadegan says.

Farzadegan, a professor in the Bloomberg School's Department of Epidemiology, is this year's winner for an Internet-based course. Epidemiology and Public Health Impact of HIV/AIDS is a mix of lectures, live talks by experts on related topics and group presentations developed by students.

Farzadegan promotes an online open-door policy to foster communication with students.

"I encourage my students to talk to me and to each other — it's the best way to learn," Farzadegan says. "All e-mails and questions submitted by students are answered typically within 48 hours; this ensures my students don't fall behind if they are confused by a subject or topic. If you are available to students, they feel it and are more encouraged to learn."

Farzadegan is happy to tell anyone that teaching is his passion, and he works to ensure that his students learn in a relaxed and stress-free environment. Whether online or in class, he admits that he, too, is a student and learns a great deal from his students and teaching assistants. He credits them with pushing him to present the most relevant and up-to-date materials in interesting ways.

"Dr. Farzadegan is one of the most dedicated professors I know. When it comes to his students, he spends a lot of time thinking about how to present material in a way that will be effective and engaging — this is particularly true of his online courses," says Meghan Davis, a Bloomberg School doctoral candidate.

Looking to the future, Farzadegan says he believes that online courses will become a major component in education, as the classes give students the flexibility to view lectures at their own pace and from various locations. In the past, he has had students from up to 10 different countries participating in a course. With this in mind, he now offers all three of his courses online and on campus. Over time, he says, he has seen the online courses gain popularity and open doors to students with lifestyles that prohibit them from traveling to class several times a week.

Farzadegan credits the success of Epidemiology and Public Health Impact of HIV/AIDS to the many "bright young minds that walk the halls of the Bloomberg School and my colleagues, who through state-of-the art lectures, share their expertise and experience with my students."