Grant Special Access to a Page Builder Page
Every few months, faculty contact the CTL Help team to find out if there's a way to give a single student early access to content in their course. The student is ususally traveling when content becomes available to the rest of the class, and not having early access may mean falling behind on class work due to travel constraints.
Faculty and TAs can now grant special access to a Page Builder page to a student in their class. This enables faculty and TAs to allow individual students early access to a page in their course, before that page becomes available to all students. The tool also allows them to grant individual students access to a page after it is no longer available to students in the class.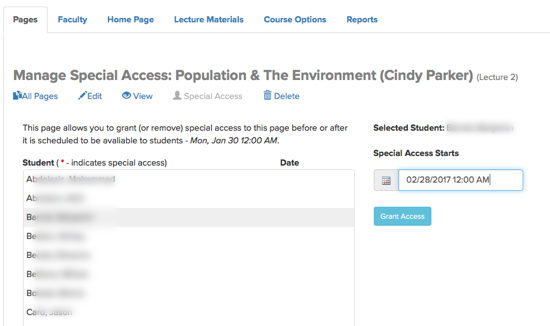 Only the currently selected student will have special access to the selected page. If more than one student needs special access to the page, each student needs to be given special acccess individually. To make a change that affects access to all students in the class, the change needs to be made via the Schedule Builder tool in the website for the course.
The special access tool also has a log of who was given special access, when, and by whom.
We hope that this addition will make the management of your online courses easier! If you have questions about how this tool works, please contact CTL Help.