Better Reminders for Students to Sign in to Class
A growing number of classes on campus use the CoursePlus Attendance Tracker tool to have students mark themselves as present at an individual class session. We've improved the tool over the past year, including adding the option of requiring students to enter a 4-digit PIN given out in class when they sign in.
In April, 2017, we asked faculty and TAs who use the tool for feedback on how to improve it. A very common theme was figuring out a way to remind students that they needed to sign in during the class. Faculty now have the option of providing reminders to students that they need to sign in to a given class session using the Attendance Tracker tool.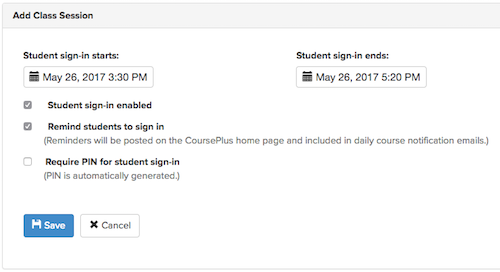 Reminders are turned on by default for all class sessions which are set up to require student sign in. You can have reminders turned on for some sessions, but not others, as you see fit.
If reminders are turned on for a given session, students get three different reminders to sign in:
A reminder to sign in is included in the Daily Course Notifications email which students receive each day.
A reminder to sign in is included in their "My Calendar" tab.
An alert box is placed at the top of their "My Courses" page which reminds them that they need to sign in to a class if they have not already done so.
In each case, a link to the course home page of the appropriate course, where they must click the "Sign In" button, is provided.
We hope that this multi-pronged approach to reminding students to sign in to class sessions will significantly improve the rate at which students remember to sign in!
If you have questions about how this new feature works, please contact CTL Help.