An Updated Sign In Screen Is Coming to CoursePlus
Most faculty, students, and staff at Johns Hopkins are deeply familiar with their JHED login. This account information is the passport to most systems at JHU. Did you know that some students can register for classes in SIS and sign in to various University systems without a JHED ID?
Starting in February 2022, students who register for non-credit classes at JHU no longer receive JHED IDs. They can still log in to University systems, including SIS, CoursePlus, and my.jh.edu, with an email address-based login. CoursePlus has supported this option since it became available.
Signing in with the JHU login is not exactly the same as signing in with JHED — especially if you do not have a JHED ID. As such, the sign in screen in CoursePlus needs to be updated to reflect this reality.
Starting on May 23, 2022, a new sign in screen that says "Sign in with JHU" instead of "Sign in with JHED" will appear in CoursePlus: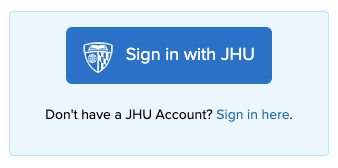 Logins work exactly the same as before. The JHU login is preferred over the CoursePlus login, though the CoursePlus login still exists for those who have no official academic affiliation with the University.
We wanted to make you aware of this change so that there would be no concern that CoursePlus was hacked when this change goes live. If you have questions about this new change, please contact CTL Help.