Summer Change: Jump to Other Courses
As we were working on the behind the scenes changes to the online course system that is being rolled out this summer, we found ourselves switching between a lot of different course Web sites. We realized that there had to be a better way to do this than to continually go back to the online courses home page, and then click on the link to the course to which we wanted to switch.
Here's a screenshot of how we solved this problem: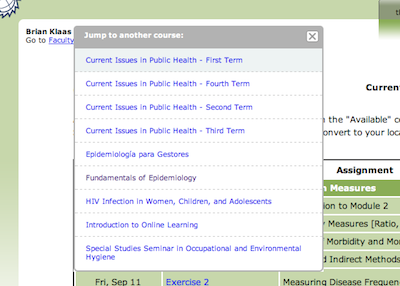 If you are enrolled in (or otherwise have access to) more than one online course, you will see a small, upside-down triangle next to your name. Clicking on that triangle brings up a list of all the other current online courses in which you are enrolled or to which you otherwise have access. Click on the course name, and you jump to the home page for that course.
Simple and convenient!