Say Hello to Signup Sheets!
Faculty frequently need students to sign up for activities in their courses: office hours, project topics, presentation days, and more. Some faculty have created Google Docs to facilitate this process. Some juggle email combined with an Excel spreadsheet. Others hand out lined pieces of paper in the classroom.
We've added a new tool to CoursePlus that lets faculty set up virtual pieces of paper (or "sheets") on which students can sign up for activity topics, office hours, groups — really anything where a list of names needs to be collected. Faculty or TAs can create individual sheets, time-based sheets, or groups of sheets where students can sign up inside the course website.
For example, faculty can create a time-based sheet for students to sign up for office hours. The faculty fills out a form that says "I can see a maximum of 8 students between 1pm and 3pm on Thursday," and the Signup Sheets tool creates the appropriate signup form with 8 slots split equally across the 1-3pm period. Another example would be faculty in an online course creating a group of signup sheets for end of term final presentations in LiveTalks. One sheet would be for the Monday LiveTalk and one sheet would be for the Wednesday LiveTalk. Students would be able to sign up on one of the two virtual "sheets" to indicate the session at which they wanted to present.
Here's an example of a group of signup sheets for students to pick the day on which they will present to the class: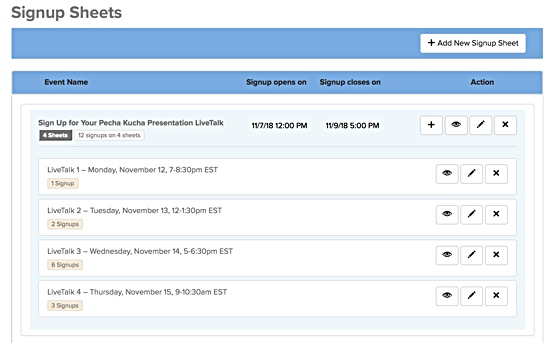 All sheets have open and close dates so that faculty and TAs can control when students sign up. Students can add or remove themselves to a signup sheet, or sign up their entire course group — if that feature is enabled in the Signup Sheet setup. Faculty and TAs can even add students to a Signup Sheet if they need to. There is a history tool on each sheet that shows all signup activity by students, TAs, and faculty.
Faculty and TAs can see who has (and has not) signed up with a click of a button. With the click of another button, faculty and TAs can send a reminder message to students that they need to sign up on a sheet (or group of sheets). There is also an option to export to Excel all data for a Signup Sheet or group of sheets.

Students can be sent an automatic reminder that they need to sign up for a Signup Sheet, sent one day before the signup period closes. Signup Sheet open/close dates also appear in the student "My Calendar" view and in the Daily Course Notifications email.
The Signup Sheets tool can be found under the "Resources" heading in the Faculty Tools area of every CoursePlus site.
We hope that faculty and TAs will find this to be a useful addition to the administration of their classes. If you have any questions about how this new tool works, please contact CTL Help!