A Powerful New Tool for Delivering Exams: Quiz Sets
As all classes at the School have moved into some kind of fully online or virtual teaching environment, ensuring academic integrity when taking exams online becomes ever more important. After consultation with many faculty about what would be useful in helping to strengthen academic integrity of online exams when direct invigilation (proctoring) is not possible, the CoursePlus team has crafted a set of new features which will help achieve this goal. We're pleased to announce one new feature which moves us far along on this path: quiz sets.
Quiz sets are collections of full quizzes or exams. When a student takes a quiz or exam that is set up as a quiz set, each student in the class is randomly assigned one of the quizzes in the set. This effectively allows you to administer random exams to random students in the class while ensuring that each exam is balanced for content and difficulty. When combined with a randomized display of question order and randomization of display of the answers to multiple questions, this becomes a very powerful tool in reducing students' ability to cheat during an online exam.
Let's take a look at how quiz sets work in more detail.
A quiz set is comprised of one or more quizzes (exams) that already exist in the Quiz Generator in your course site. Each quiz that goes into a set must be set up before you can create a quiz set containing that quiz. You can have as many quizzes in a set as you want. However, all quizzes in the set must have the same total point value for all questions in each individual quiz. This prevents you from having some students get randomly assigned a quiz with 45 points while other students get randomly assigned a quiz with 50 points.
The settings for the quiz set override the settings of any quiz inside the set. You don't need to spend time configuring all the setup details of each quiz in the set because the settings on the quiz set itself (ie; open and close date, time allowed to complete, display of results, etc) override whatever settings are created for each individual quiz in the set.
Once you create a quiz set, the set is treated exactly like any other quiz or exam in the Quiz Generator. The overview page does look a little different. To help you immediately recognize that it's a quiz set, the overview page shows all the quizzes in the set. You can click on the title of any quiz in the set to see or edit the individual questions in that quiz.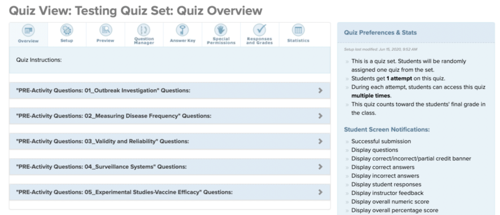 Otherwise, you see student results, grade individual student responses, manage special permisisons, and view statistics exactly the same way as you would on any other quiz or exam. Even though students are randomly assigned a quiz from the set, you manage everything through a single quiz.
Managing the questions in the quizzes in a quiz set does require that you drop down to the individual, component quiz and make the changes there. The Question Manager view makes it easy to jump to editing questions of a quiz inside a quiz set:

Just as you have to drop down into a component quiz to edit the questions in that quiz, you also have to drop down to a component quiz to see the answer key for a quiz in the set. Otherwise, everything you need to do in terms of quiz or exam management in a quiz set is done inside the quiz set "quiz" itself.
Quizzes in a quiz set are also automatically hidden from the listing of quizzes shown to students. This prevents students from directly accessing a single quiz in a set.
We hope that you find the quiz set feature a powerful tool in your assessment delivery toolset. As always, if you have any questions about how this feature works, please contact CTL Help!