Faculty Can Now Manage Non-Student Access in Online Courses
For years, faculty and TAs working on CoursePlus sites have had the ability to directly manage who has guest or "editor" access to their CoursePlus sites. With online courses, however, those requests have had to go through the Center for Teaching and Learning with Technology (CTLT). Today, that changes.
Faculty and TAs in online courses can now manage who has non-student access to their online courses. Faculty can give TAs access to their online courses, and a lead TA can do the same for other TAs in the course, or for guest faculty. It's a simple tool which asks you to enter someone's first or last name, and then you select the kind of access that you want to give them. The person you select is then sent an email informing them that they have access to this course, along with a link to the course website.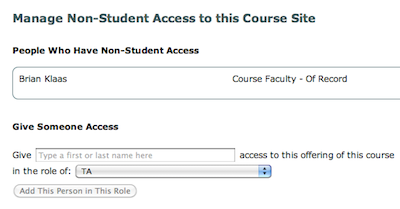 As with CoursePlus, faculty and TAs cannot manage student or auditor access to a course website. Student and auditor access still needs to be processed through ISIS, the University system of record for course registration and enrollment.
Although the tool warns you about this (once per offering of the course), it's bears repeating: giving a student guest access to a course website because their registration in ISIS has not yet been processed is a bad idea. Guests in online courses do not get class emails; they cannot take quizzes; their viewing of course lectures or participation in LiveTalks is not recorded; and, they do not appear in the Gradebook. If a student says that he registered for your online course in ISIS but does not yet have access to the course website, the student should contact the Registrar's office for assistance.
Finally, it is the School's policy that students enrolled in degree programs should not be given guest access to online courses. If a student enrolled in a degree program needs access to an online course, they should do so as a registered student or auditor. Questions about this policy should be directed to Sukon Kanchanaraska, the Director of the Center for Teaching and Learning with Technology.