Daily Notification of Who Added or Dropped a Class
Keeping track of student adds and drops once a course begins can be a challenging task. If you're trying to quickly establish student groups or project topics, it can be even more challenging. CoursePlus has long automatically added and removed students from CoursePlus sites as they added or dropped a course in SIS. The roster page in CoursePlus has long displayed the names of each student who dropped a course and when the student dropped the course.
We're pleased to announce that you can now opt-in to a daily email message which shows you the names of students who either added or dropped a course in the past day. Course faculty, TAs, and coordinators can be included (or excluded) from this daily email message.
To opt-in to this message, go to Faculty Tools > Administrative Tools > Add/Drop Notification: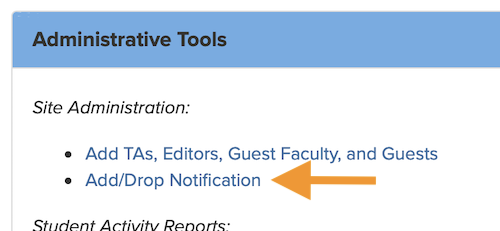 Please note that this tool is only available once reaches the start date for the course as specified in the JHSPH course system.