The New 'My Courses' Page
When the online course and CoursePlus systems merge at the end of May, 2014, there will be numerous changes — some of which we've already detailed in other posts. In this post, we'll take a look at the all new post-sign in, "My Courses" page.
The My Courses page is what you see immediately after signing into CoursePlus as either a student or editor (using your eLearning account) or primary faculty on a course (using your my.jhsph account). Unlike the current version of CoursePlus, if you sign in as faculty, you see all of your courses displayed, whether it's an online or on-campus course, and regardless of your role in the course (faculty, guest faculty, editor, guest, student, etc.). All your courses in one place — a big improvement over the current setup!
Here's what the My Courses page looks like: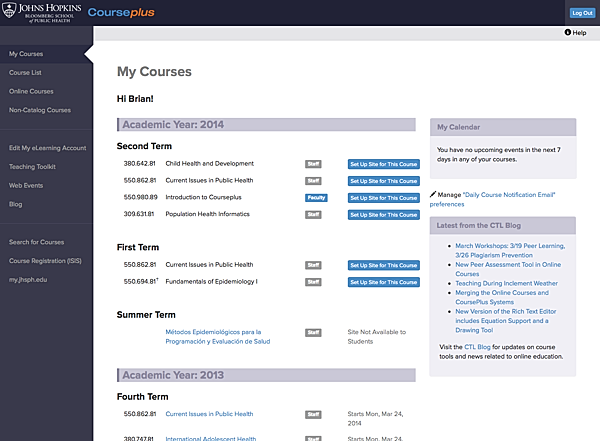 On the left, you'll see all of the course sites to which you have access listed by academic year, then academic term, in reverse chronological order (just as it is now in CoursePlus and the online course system). You'll see your role in each course (student, faculty, guest faculty, editor, etc.) on this page, rather than having to click through a series of tabs, as you must in the current CoursePlus. You'll also see a column with other key information about each course:
The start date of the course (online courses only)

If there are recent announcements in that site (indicated by a red star)

If the site is not available to students
If the course has been cancelled
If you can set up the site for that course (only if you're primary faculty on the course)
Academic coordinators who sign in to CoursePlus using their my.jhsph account will be able to see all CoursePlus sites in their department in this list.
On the right, there are a number of useful tools. First up is the My Calendar box, which should be familiar to anyone who's taken or taught an online course. The My Calendar box shows upcoming items on the class schedule for both online and on-campus courses. In order for on-campus class information to make it into this box, faculty or course editors need to use the class sessions tool to add class session information to their CoursePlus sites.
Below the My Calendar box is a listing of the most recent blog posts on the CTL Blog. We hope this provides everyone with an easier way of getting news and updates about changes to CoursePlus, course tools, and best practices in education in general.
We think the new My Courses box is a significant improvement over the current course involvement listings in both the online course and CoursePlus systems. We hope you do too!