Summer Change: Download the Course Schedule to Your Calendar
Earlier this year, we asked students to give us feedback on some potential new tools for online courses. The results of that survey were posted in February. 
When presented with a list of potential new course features, a good number of students stated that the ability to synchronize events on the course schedule to their Outlook/iCal/Google calendars was really important to them. This presents certain challenges — especially when you try to sync up information that's changed to a calendar entry that already exists on your computer — but one of the really good things about the new, behind-the-scenes architecture that we are moving to is that it makes it much easier to make changes to the tools in online courses.
So we've gone ahead and added this feature to the new version of the online course system that is coming this summer.
When you haven't downloaded the course schedule to your computer, this is what you see: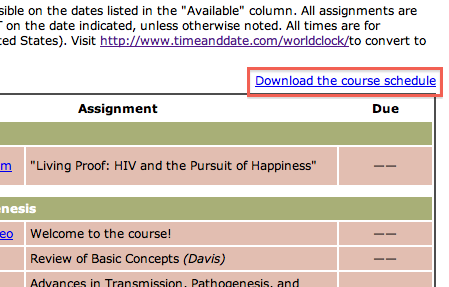 When there are updates to the course schedule since you last downloaded it to your computer, you'll be notified that there are updates to download. When you download those updates, the existing events in Outlook, iCal or Google Calendar will update accordingly. Very handy!
A couple of notes about this new feature:
This has been tested and works with Outlook on Windows, Entourage on the Mac, iCal on the Mac, and Google Calendar. Other applications which support the iCal format should work, but we aren't officially supporting them.
You get separate events for due dates. If something on the course schedule has both an "Available" date and a "Due" date, you'll get separate events for each.
You have to import the calendar entries into your calendar program. This doesn't happen automatically. Instructions are provided with each download, but it's really easy: just double-click on an item in the download and it gets imported in to your calendar program.
If you change date/time information in an event once it's been imported into your calendar application, that event may not update properly when you download updates from the course schedule.
We hope you find that this is a really useful addition to the online courses.