Rich Text in Multiple Choice Answers
Multiple choice questions are the workhorse of online quizzes and exams. While they may not be the best way to assess students in all situations, they can be a powerful tool in the assessment arsenal. Traditionally, the answers to multiple choice questions in the CoursePlus Quiz Generator have been plain text, lacking even basic formatting. That has changed.
You can now apply basic formatting to answers to multiple choice questions. The formatting options are limited to:
Bold
Italic
Underline
Superscript
Subscript
Background color
LaTeX-based equations
This last option is particularly useful in math-based questions. These are the only options available because multiple choice answers still are best comprehended on a single line of text, and are best when not excessively long.
Rich formatting is not enabled by default for each multiple choice answer. For each answer where rich formatting is required, you'll need to click the "Enable Rich Formatting" button next to the answer:

Once you enable rich formatting for an answer, the rich text editor will appear in lieu of the plain text box. Additionally, once enabled, the rich text editor will always display for that answer option, even if you don't include any rich formatting.
The power of rich formatting in multiple choice question answers is that you can now create questions like this: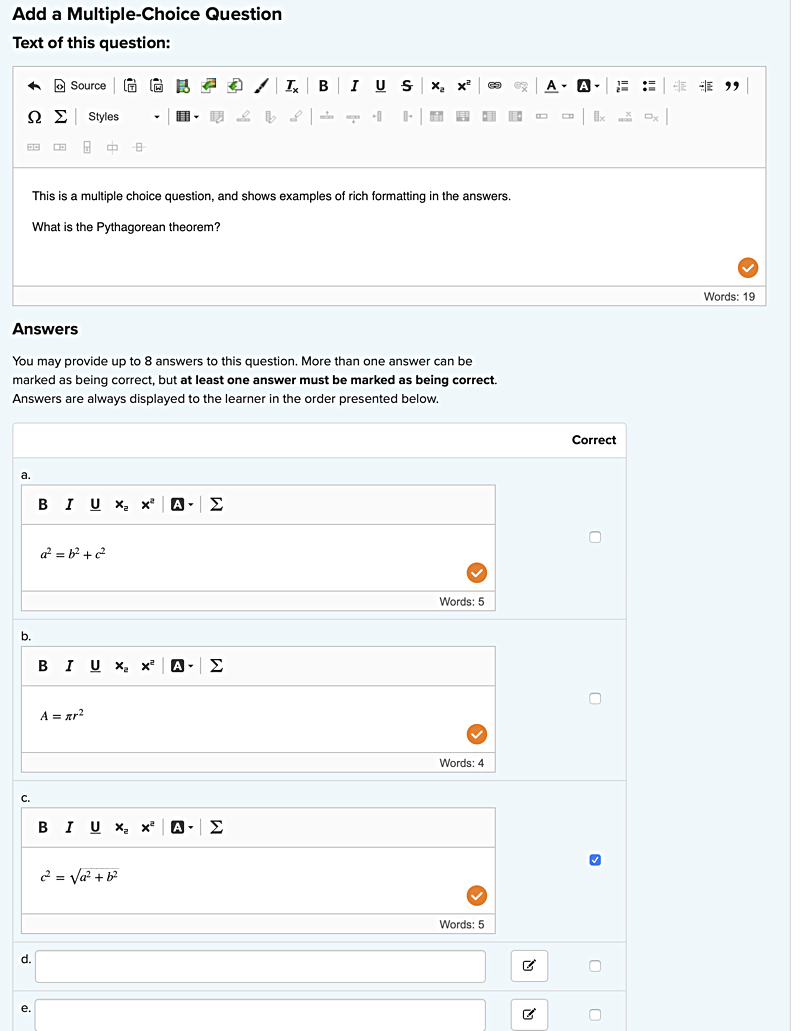 Rich formatting in answers opens up a lot of new possibilities for many kinds of questions, particularly for mathematic and chemical equations.
Along with this addition of rich formatting in multiple choice question answers, rich text editing is also now available in fill-in-the-blank questions!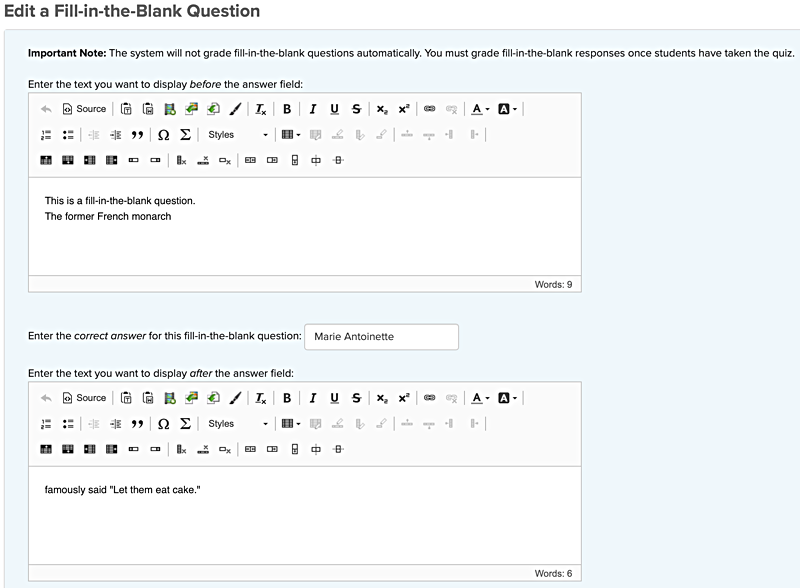 Previously, fill-in-the-blank questions only allowed for plain text to surround the "blank space" that students would fill in. Now, you can include full rich text — including tables and images — at any point in your fill-in-the-blank question. Student answers are still plain text, however.
As always, if you have any questions about these new features, please contact CTL Help!