Report on Non-Participating Students in Online Courses
It's important for faculty, TAs and course coordinators in fully online courses to make sure that students are participating in the course on a regular basis. A lack of engagement in an online course is often an indicator of a struggling student, or a student who simply isn't interested in the course and may want to drop the course.
While CoursePlus has reports which show when a student last signed in to a course site, when a student watched or downloaded online course lectures, and when a student last posted to a course discussion forum, these reports are separate. There has been no single report which says "Show me students who haven't been active in the course site in the past week."
We just added that report to CoursePlus: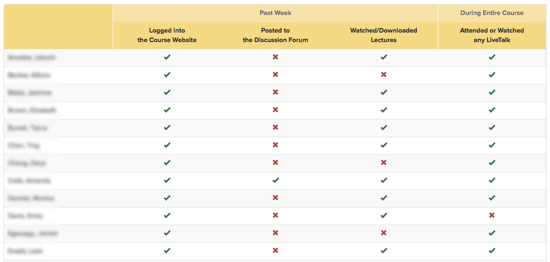 This report shows students who have not:
Logged into the course website in the past week
Posted to the discussion forum in the past week
Watched/downloaded any lectures in the past week
Attended any LiveTalks or watched any LiveTalk archives in the course
We hope that by more easily surfacing this data, and by limiting it to only the past seven days, faculty, TAs, and course coordinators will have an easy-to-read dashboard where they can look for students who may need individual attention or a simple reminder to remain active participants in the course.