'Recent Items from the Online Library' Box on the Course Home Page
When the online course and CoursePlus systems merge at the end of the academic year, we'll be introducing a new element to course home pages: a "Recent Items from the Online Library" box on each course home page. This box includes the five most recently uploaded (or replaced) files or links in the course Online Library.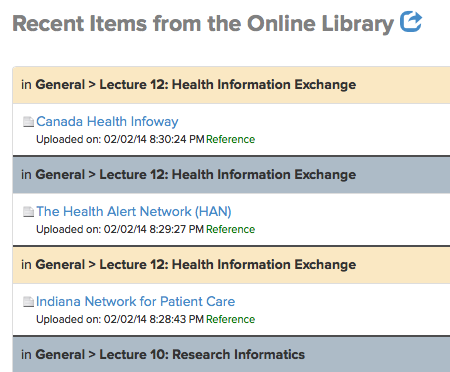 Aside from making the course home page more useful, the other purpose of this addition is to help replace some of the functionality on the "What's New" page in CoursePlus. In case you don't know, when students sign into CoursePluse, there is a "What's New" link next to each course in which they are enrolled. This page lists recently added quizzes, surveys, Drop Boxes and Online Library files for a specific course. Unfortunately, this feature won't make it into to the merged CoursePlus right away because it's not a very scalable tool (it takes 5-7 seconds to gather all the data for just one course). It also helps to divert students from actually going into a CoursePlus site and engaging in the full scope of activities therein. It's certainly convenient, and our hope is that — while no replacement for a custom, per-person, per-course "What's New" page — the "Updates to the Online Library Box" will help replace some of this convenience.