New Syllabus Tool Coming to Online Courses (and CoursePlus)
Early last year, the School began a process of coming up with a standardized course syllabus template that would, eventually, be used for all courses at the School. Late last year, the standardized course syllabus template was approved by individual academic departments and the School's academic deans.
This month, online courses will get a new version of the Syllabus Builder tool which meets the requirements of and encourages faculty to work within this new syllabus template. At the end of the year, this new Syllabus Builder tool will launch inside CoursePlus, bringing the same tooling and features to all courses offered by the School.
The new Syllabus Builder tool looks like this: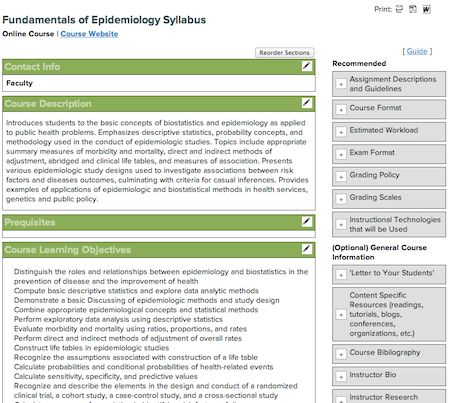 Here's a list of some of the features of this new syllabus tool:
Select information from the JHSPH course database is pulled into the syllabus tool and can be modified from within the syllabus tool. Previously, these sections were not editable from within the syllabus tool. This includes the following sections:

Course Description
Course Learning Objectives
Methods of Assessment
Intended Audience
Prerequisites
Required Text(s)

Numerous sections of content recommended by the committee which developed the standardized JHSPH course syllabus appear on the main editing page. These sections can easily be added by clicking a [+] button next to the section title.
Guides for effectively writing each section of content in your syllabus have been created by the instructional design team at the Center for Teaching and Learning. These guides can help you write a better syllabus in less time.
You can rearraange the display order of sections in your syllabus by dragging and dropping those sections on the page.
You can flag files in the Online Library so that the files display on the syllabus.
The syllabus is available in a printable format with one click.
If you print the syllabus, and you use either the schedule in an online course or the sessions tool in CoursePlus, the schedule/session information is printed inline with the rest of the syllabus content.
Classroom information is now pulled from centralize scheduling and included in the syllabus.
The instructional design team in the Center for Teaching and Learning has been offering workshops on how to create a great syllabus, and will continue to do so in the coming months.
If you have any questions about this new syllabus tool, feel free to post them here!